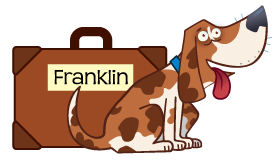 Preparing Your Pet for
Their Visit
For the safety of your Pet and the other Members and Pets, please keep your dogs or cats on leash or in a service carrier, and bring any prior Pet medical testing and treatment records that you may have.
For questions about our canine and feline preventive and wellness exams or to schedule an appointment for your Pet, please call us at 360-816-8000.
ALL PETS:
If scheduled for an early day vet visit, give no breakfast. If late in the day, feed ¼ of a normal breakfast. (Fasting increases acceptance of food treats, plus gives more accurate lab work.)
Bring some special treats the pet does not get at home. E.g. steak, chicken, hot dog, cheese (not dry treats). We want the Pet to think the exam table is wonderful because of the special treats.
Ensure that water is available up to leaving for the visit.
Bring dogs with a neck collar and 4-6' leash and all cats in a portable carrier. If you don't have a portable Pet carrier, we sell them to Hannah Members at a discounted rate. Don't put food or water in the kennel. Bring a towel to cover a cat in the kennel.
If available, bring a tsp of fresh stool sample.
Bring all medications you have at home that have been previously prescribed for this Pet.
If a skin case, bring any medicated shampoo or conditioner you are using on this Pet.
Bring any Treatment or Behavior Diary if one is being kept.
DOGS:
Exercise a dog by a long walk before the visit to reduce hyperactivity.
If the dog likes to chew or have something in the mouth, bring a chew toy.
If you own a head halter (with loops around muzzle and neck), have your dog wear it to the visit.